Centurion Auto Transport Case Study
National Fleet Services Helps Centurion Auto Transport Increase Efficiency, Save More Than A Million Dollars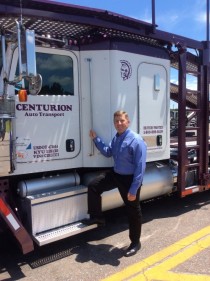 In an industry with tight deadlines and even tighter margins, increasing efficiency and eliminating unnecessary costs is an unbeatable combination. That's why ATA member Centurion Auto Transport, one of the nation's leading automotive transport companies, selected National Fleet Services (NFS) to help reduce operating taxes and to improve equipment titling and registration. The results: $1,375,000 in savings in three years and Centurion was able to focus its energies on its core mission of moving automobiles for customers.
"I knew that like a lot of private companies, we were missing some things that could improve our profitability and efficiency," said Rick Ingram, Centurion Auto Transport's chief executive officer. "It really sounded too good to be true, but National Fleet Services delivered. Their experience in transportation saved us money and enabled us to continue to concentrate on delivering excellent service to our customers."
National Fleet Services provides a broad range of customized fleet solutions to hundreds of commercial fleets across the United States and Canada, including regulatory/DOT compliance services, fleet titling, registration, permitting, driver qualification services, and cost reduction services including tax recovery, fuel tax reporting, vendor management, and process improvements.
"We are excited about the relationship that we have built with Centurion," said Matthew Bowles, president and CEO of National Fleet Services. "We were able to help reduce their operating costs and improve their operating ratio through our recovery and license, title and registration services.
"We provided Centurion with an alternative service for their essential 'in-house' DOT compliance requirements, as well as tax and recovery services. We've been working in the trucking industry for years, so we knew where to look to determine opportunities for efficiency and cost savings."
National Fleet Services first worked to understand the fleet's unique operating practices and culture, beginning with the company's equipment. National Fleet Services studied three key elements:
How equipment is selected and purchased
How equipment is titled and registered
How equipment is maintained and repaired
"We just pointed National Fleet Services to our files," said Ingram. "They took it from there. Because National Fleet Services has been working in trucking for years, they knew exactly where to look to find the problems and potential opportunities."
In addition, NFS documented the behavior of Centurion's fleet, such as where the company operates – stops and how many miles are traveled; the fleet's plans for the future; and how vendors are selected.
"In particular, we noticed Centurion was over taxed as many motor carriers are and all of their tractors and trailers were licensed in a single state," said Bowles. "The combination was increasing the operating cost and reducing their profits impacting their overall operating ratio."
NFS developed an action plan for Centurion focused on three activities:
Getting refunds on unnecessary taxes and fees the company was paying—"Centurion was paying taxes in places where it was unnecessary, while the company was also overpaying in other locations," said Bowles. "We pursued refunds and made sure future payments were made for the proper amount."
Restructuring the fleet's legal entities to save money—"We look at a tax profile of the entities to determine whether the company's tax efforts have been optimized," said Bowles. "We recommended the proper changes to ensure the best possible tax situation."
Mitigating risk by cleaning up the process of licensing equipment—"The first thing we looked at was the way things have been done over the years. Centurion purchased and licensed all of its equipment in Florida. We recommended diversifying purchasing and licensing to capitalize on tax opportunities in other states in which Centurion operates."
"We were able to accomplish this because we have worked with hundreds of motor carriers across the country," said Bowles. "We knew the requirements of each state and we knew the opportunities that Centurion could capitalize on."
Once NFS accomplished this, the company trained Centurion's staff on the new procedures and what to look for in the future.
"We weren't doing any of this previously," said Ingram. "We didn't have staff assigned full-time to this and we didn't have a true understanding of the best way to accomplish it. We were doing our best, but it's a massive job keeping up with all of the state tax and tagging requirements."
"Our expertise is getting our customers' merchandise from one location to another safely, cost-effectively, and on time. National Fleets Services are experts at keeping our equipment in compliance and helping us maximize our profitability. It's been a good team."