National Fleet Services Helps CRST to Reorganize Fleet to Maximize Efficiency and Profitability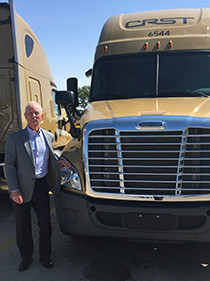 More than 4,000 tractors and 4,600 trailers used by seven different companies.  The challenge CRST International faced was how to organize this large, diverse fleet to maximize tax and licensing efficiency.  CRST International is one of the nation's largest transportation companies, providing total transportation solutions and comprehensive logistics services to customers all over North America.  The company's annual revenues exceed $1 billion.
"We were struggling with equipment licensing and taxes, but we knew that National Fleet Services successfully worked with other motor carriers on the same issues," said Wes Brackey, Chief Financial Officer at CRST.  "As a result of National Fleet Services' work, we were able to reach our goals by recovering unnecessary taxes previously paid and reorganized multiple companies into one company to put our entire fleet under a single entity to increase licensing efficiency and improve our tax situation."
CRST engaged National Fleet Services (NFS) to conduct a Tax Recovery Project focused on sales, use, and excise taxes.  After a thorough review, NFS recommended (1) a tax refund effort to address previous tax recovery and (2) a legal entity and business restructuring plan for CRST to ensure future licensing and tax issues.
National Fleet Services provides a broad range of customized fleet solutions to hundreds of commercial fleets across the United States and Canada, including regulatory/DOT compliance services, fleet titling, registration, permitting, driver qualification services, and cost reduction services including tax recovery, fuel tax reporting, vendor management, and process improvements.
"The implemented structure presented in our feasibility report has enabled the company to aggregate its fleet for better utilization, simplify the tractor and trailer registration process and save operating costs in the areas of registration and tax," said Matthew Bowles, CEO and president of National Fleet Services.
Bowles said NFS implemented a process to review:
accounts payable files
international registration plan (IRP) filings
federal heavy highway vehicle use tax returns (Form 2290)
international fuel tax agreement (IFTA) filings
sales tax filings
prior tax audit history
NFS then developed recommendations and a feasibility study that demonstrated that the desired results would be achieved.
"National Fleet Services reviewed key parts of our company's organizational structure, licensing process and tax profile," said Brackey.  "They then came back to us with a plan to streamline how we did things and took the lead in building the project. "
"We started with a recovery project which provided us the opportunity to review the current organizational structure in terms of its legal entities and personnel," said Bowles.  "In addition, we reviewed the process for equipment titling, licensing and registration as well as tax decision and payment process that were challenging the operating companies."
"Based on our recommended reorganization of the legal entities and equipment, we provided a step by step work program for all impacted business functions to manage the reorganizational project by task, by assigned person and by assigned due date," said Bowles.  "We used a proprietary online project management system which enables us to track due dates, documents and tasks.  The project management tool emails each project team member daily reminders on what has to be completed each day and the following week.
"In addition, our online system allows us to assess areas of risk and prioritize them in a way in which management can quickly understand the risk to make a decision that will be documented.  This online project management system differentiates us from our competitors allowing us to simplify processes, reduce the cost of implementation and have transparent communication with our clients and team members 24/7.  In this case with CRST, we were able to work functionally and collaboratively across state lines and being in different time zones to implement this project successfully and on time."
"It was a six-month project, but it was pretty painless and well worth it. We then got our outside accounting firm involved and they confirmed that National Fleet Services allowed us to reach our goal," said Brackey.  "It's been a year and a half since National Fleet Services completed the project, and we still pick up the phone to call them anytime we have questions or need help with something. National Fleet Services also is now looking into our insurance process."